We all know by now the obvious beach essentials we take with us every year; sunscreen, hat, book, water. Check, check, check, check! But there are many more super functional items we think you should bring to maximize your time in the sun. We promise once you start using some of these, you'll wonder how you ever lived without. P.S These are also super cute gift ideas for anyone celebrating a birthday in the summer! 
Waterproof Wet Bag 
Okay, this might seem obvious to some people, but you would be surprised at how many people we know suffer through the drive home from the beach in a wet bikini. Yuck, no thank you. We should all know by now that is a yeast infection waiting to happen. A waterproof bag is really multi-functional. It's perfect for throwing your wet bikini in after a long day or the beach OR for keeping items safe from sand and debris (like jewelry or your cell phone). This one comes in the cutest patterns!
Get yours at Fashionable Farm Girl $25
Silicon Bottle Stopper
These work whether you choose rosé or water at the beach (let's face it we're all rosé at the beach kind of people). Avoid beach bag spillage with these silicone bottle stoppers. They come in a variety of colors, are perfect at sealing, and fit on any bottles including beer, wine, water, juice, or sports drinks. 
Get yours at Little Bird Bottle Stopper $8
Inflatable Oyster Shell Float
Repeat after me, "there is nothing wrong with being extra", and this oyster shell float is just that. Get your mermaid vibes on and float like the precious pearl you are this summer. With so many to choose from, you might just have to pick up a few for every beach day this summer!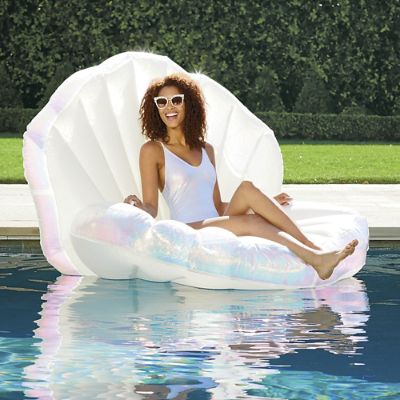 Image Source: frontgate.com 
Get yours at Frontgate $90
The Coolest Cooler
We're not kidding, everyone needs this cooler. You might have seen it a few years ago on Go Fund Me, but it's finally here and boy oh boy is it cool (pun totally intended). Not only is it customizable so you can have in any color you want to match your favorite bikini, it comes with a huge amount of other gidgets and gadgets. An outdoor Bluetooth speaker, a secret compartment where you can stash your smartphone, car keys, or valuables, a magnetic bottle opener and corkscrew, 4 plates, a cutting board and knife, and a blender to mix all your favorite summer cocktails with! Oh, and did we mention it has LED lights and a phone charger? Yep! Pretty great right? It's pricey, but we think it's worth it. 
Get yours at The Coolest Starting at $189
SweetSpot Labs Gentle Wipes
These should be essential for any bag, including your beach bag! There is nothing worse than feeling less than fresh after a long day at the beach. Between the sunscreen, sweat and sand in all of our nooks and crannies we all need a little clean up so we can stay our freshest no matter what. These Gentle Wipes are pH balanced and made with natural, clean ingredients so you can feel confident using them anywhere on your body, yes, even down there!
Get yours at SweetSpot Labs Gentle Wipes $10
Though you probably have the basics covered, we hope these often forgotten beach essentials will help you have an even more perfect day of fun in the sun!